Are you looking for Webroot Spy Sweeper 2010 free license code? webroot spy sweeper keys? Here we have found some free license for you. If you were looking for free license of Spy Sweeper, then you might want to use it for free or for evaluation. If you already have some other spyware cleaners and just want to try some other tools, then you can grabe your time to get a 6 months free of Webroot Spy Sweeper.
How to grab the free copy?
visit their facebook fan page and click on 'Get my 6 month free trial now!'  to download it. You don't need to register or enter any license code.  Just download, Install it, and save your PC from any spywares.
Free license spreaded by many blogs like Webtricks.com, askvg.com etc. And here is a picture of the free compaign from Webtricks.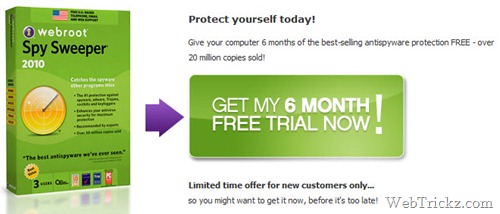 About Webroot:
Domain Name: webroot.com
Expiration Date: 2011-07-04
Creation Date: 1996-07-05
Alexa Trend/Rank:
1 Month: 11,545    3 Month: 11,999
As data shows above that webroot has a long history. And it is with high traffic everyday like 10, 0000 appromix.
Webroot Spy Sweeper is a antispyware, which help you prevent spyware and clean bad spywere infected on your PC. It is recommended by PC Magazine as "The best antispyware we've ever seen."
Spyware is the weak of most antivirus software, if you want to make your computer safer, do grab one and this time for free.
Marketing Strategy by Free offer from Webroot.
By spreading the free compaign, Webroot keeps himself highly spotted by many bloggers.